We currently have 2 broodmares. Our aim is to have broodmares of top quality, between 14,2h and 16,2h of excellent conformation, temperament and bloodlines. The mares kept open as riding horses will be shown in western (APHA/AQHA) classes, Paint Horse Southern Africa (APHSA), Reining and Western dressage classes as it is our belief that all our horses should be under saddle and of show quality.
All mares are registered with APHA (USA) and AQHA (USA). Quarter horse mares are registered with APHA as solid breeding stock to enable us to breed purebred American Paint Horses with our American Paint stallions.
All mares are current on inoculations, farrier work, dentistry and deworming. They all have current passports.
We strive to breed both American Paint Horses and American Quarter Horses of outstanding Quality, conformation and temperament.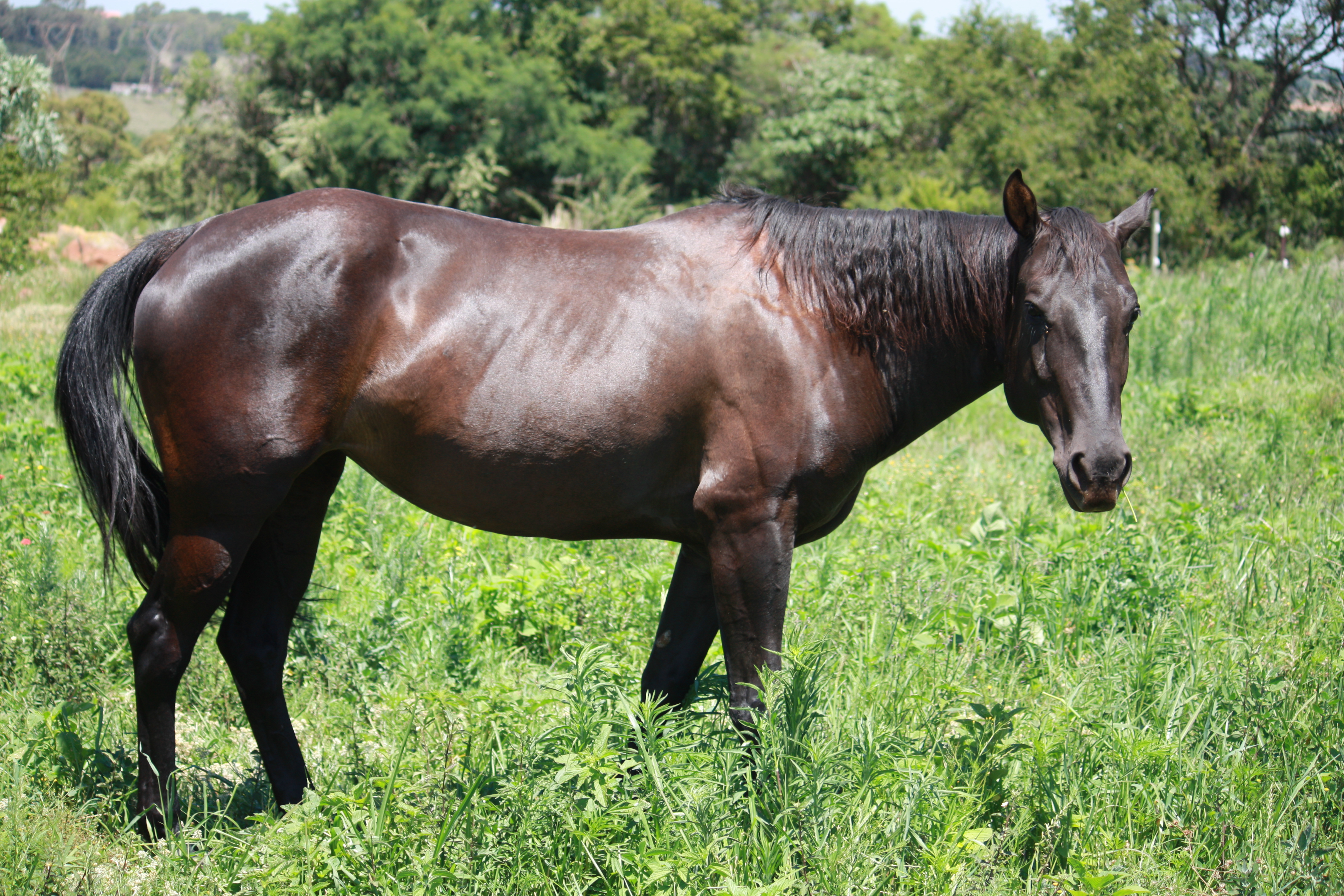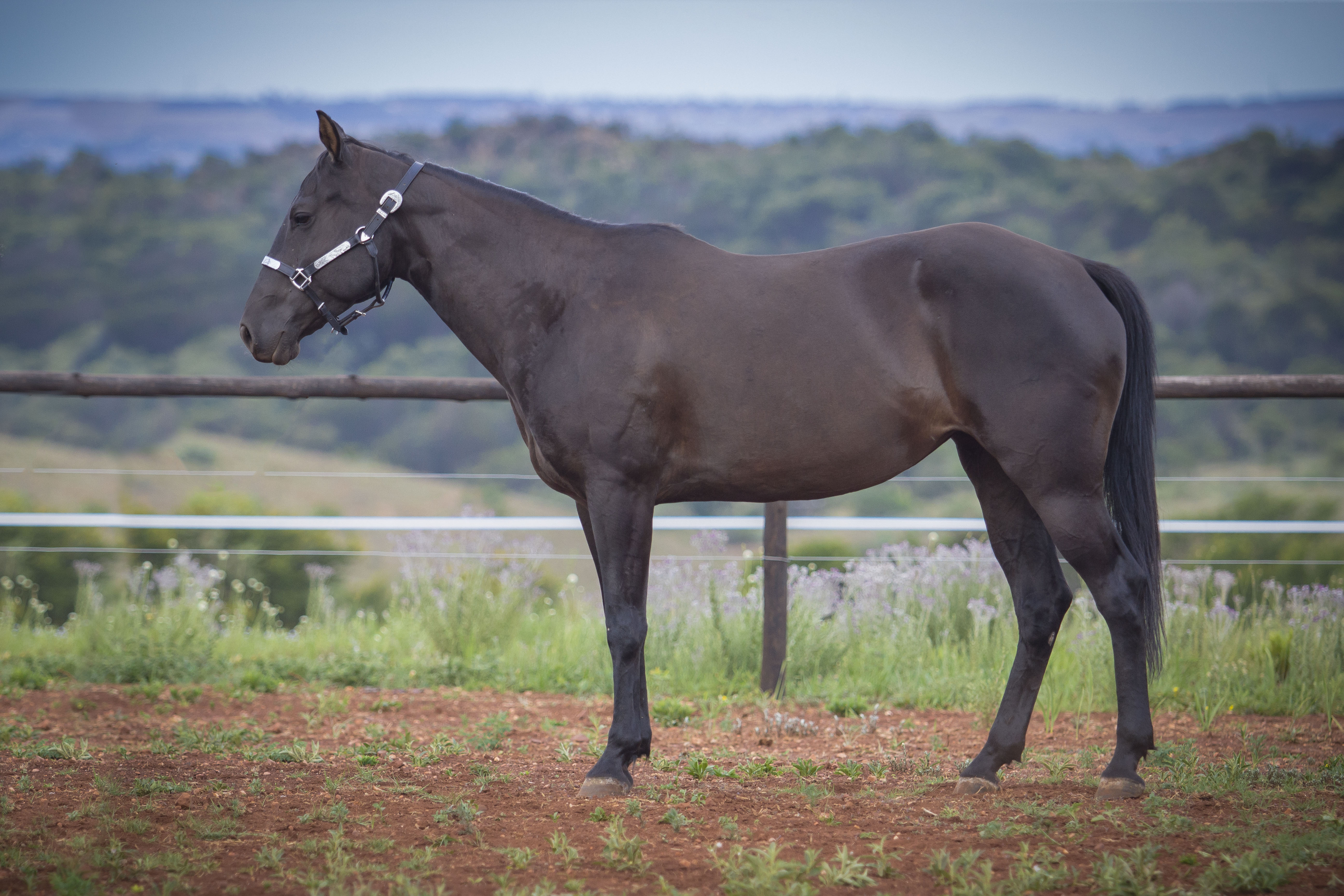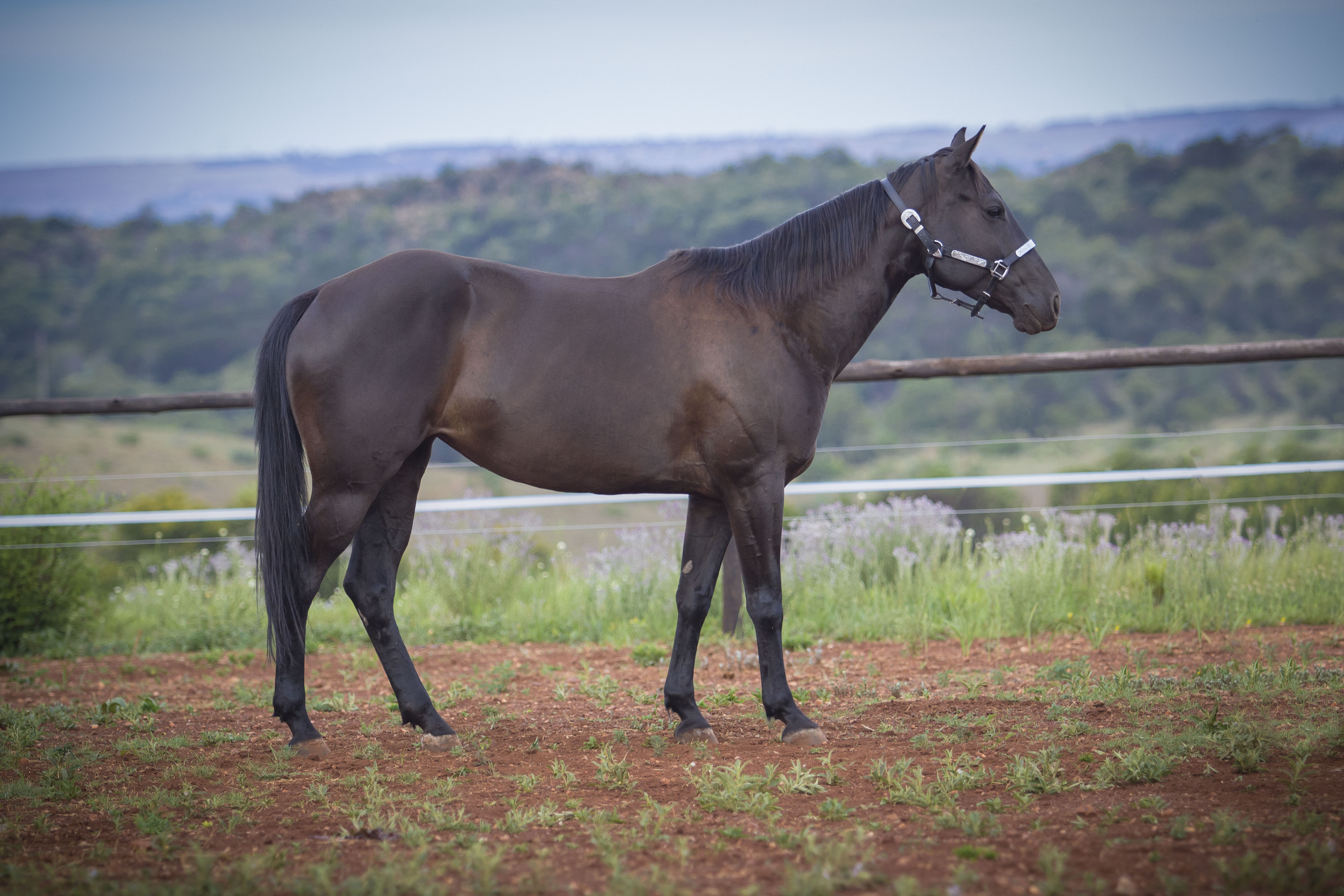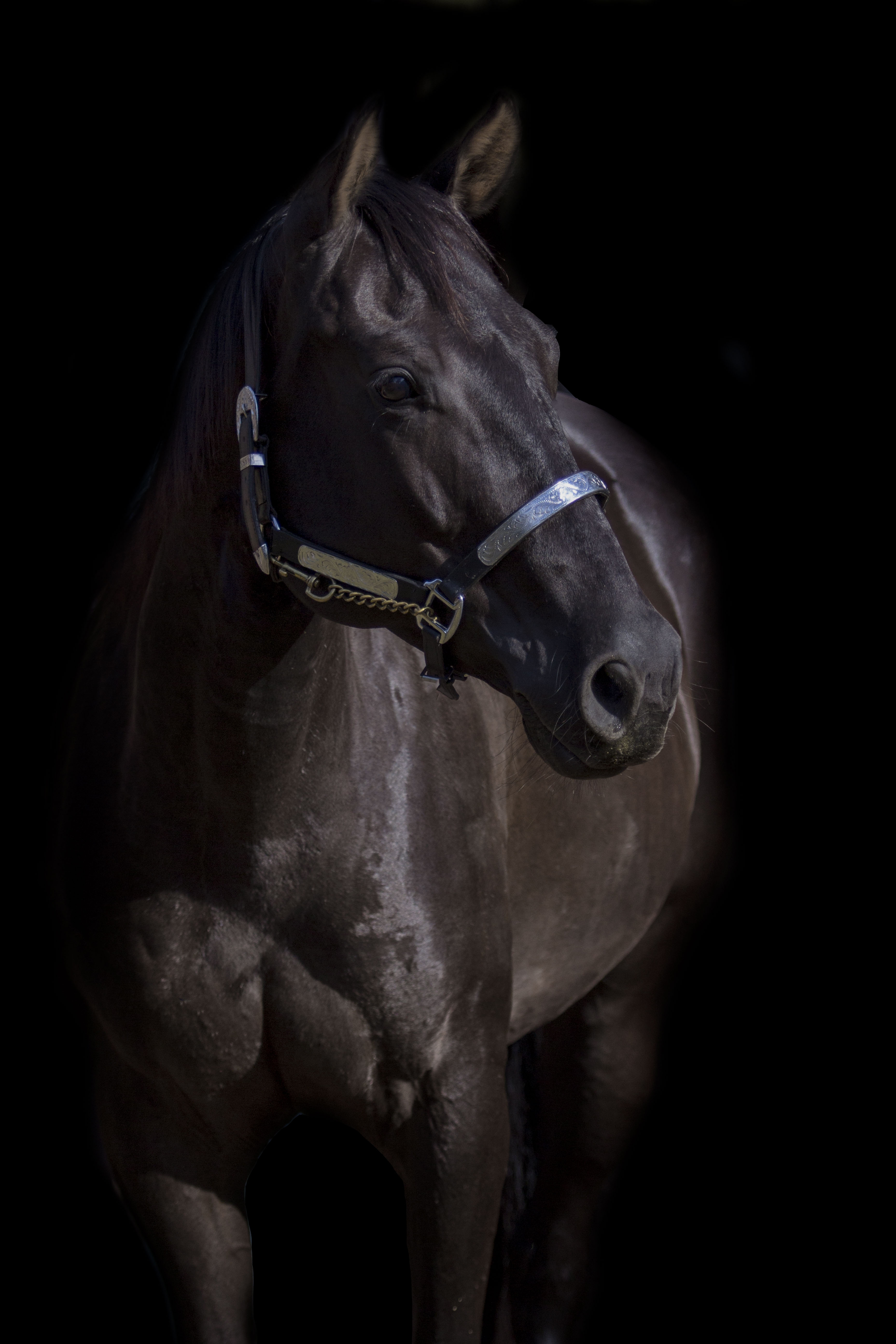 CalVal Pardon My Dust, by Bronco King Baracuda x Caledonvalley Applebum, d.o.b. 22/09/2011. She is 6 panel NN and colour tested as heterozygous black with nd1/nd2 gene displaying dun factors but not a dun. She produced a smokey black QH colt in September 2015 (Uniquine Dun N Dusted) and a black tobiano colt on 26/11/2016 by McQ. Her 2016 colt, Uniquine McNiteFrost that will be retained. She will be kept open as my personal riding horse for a couple of years.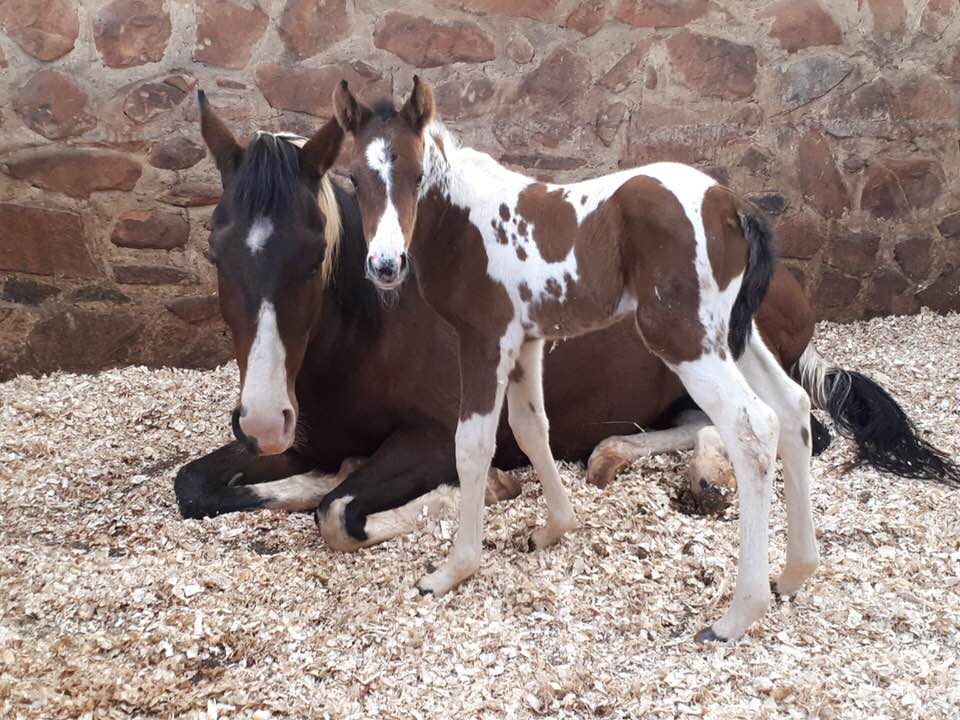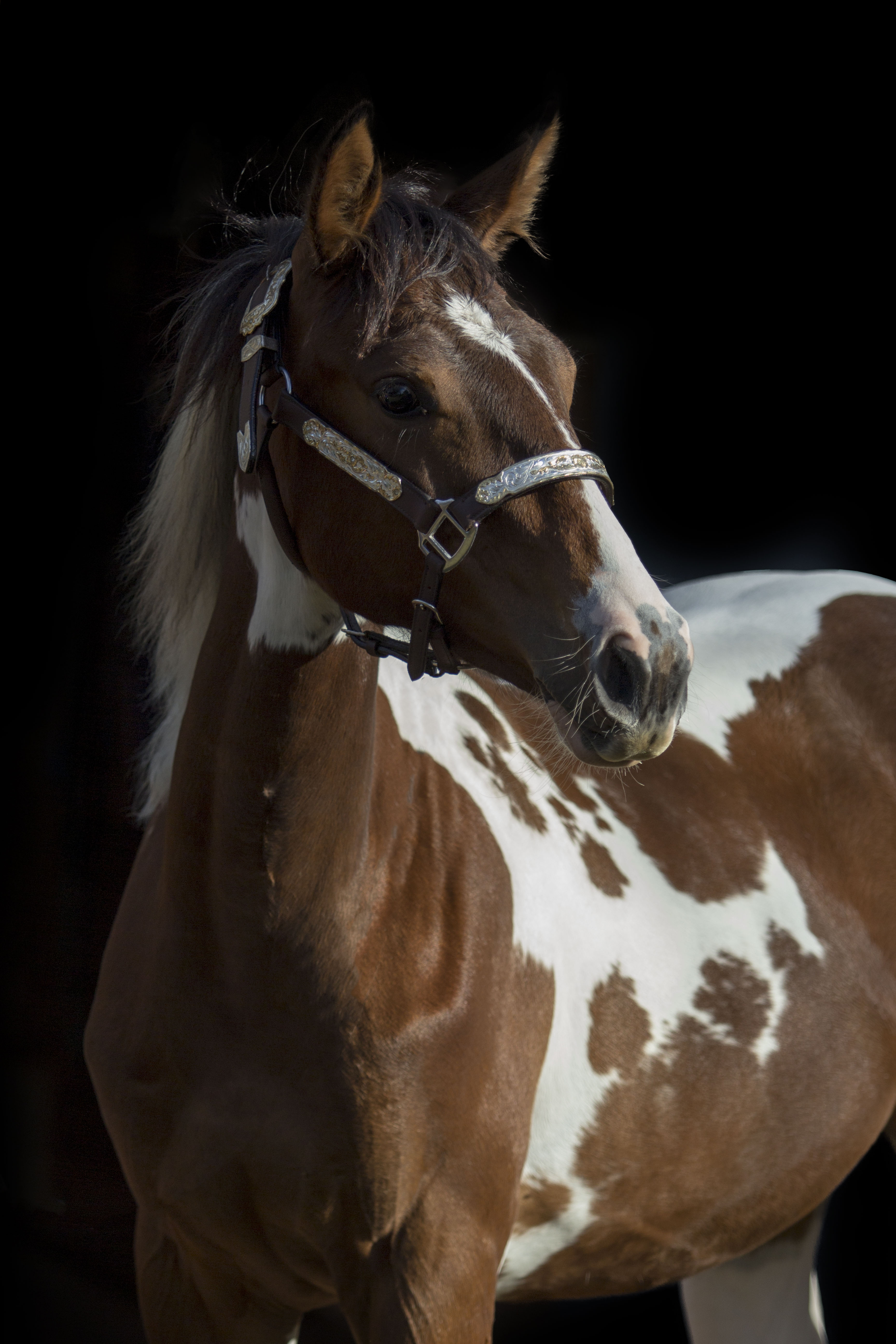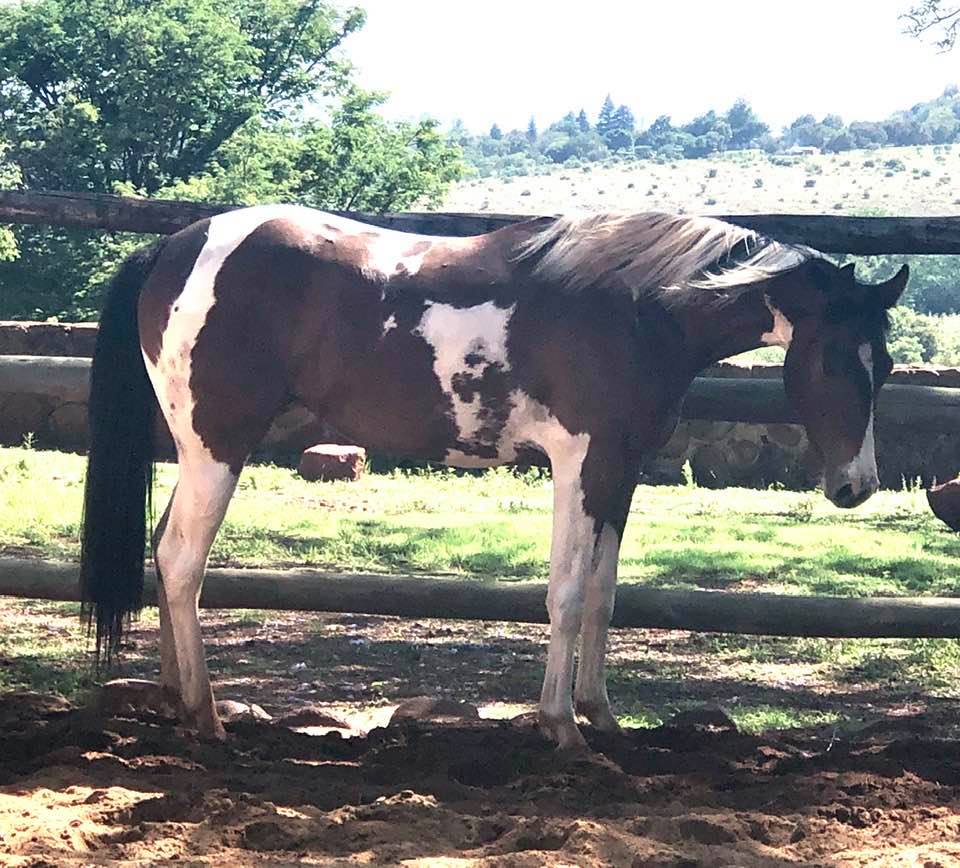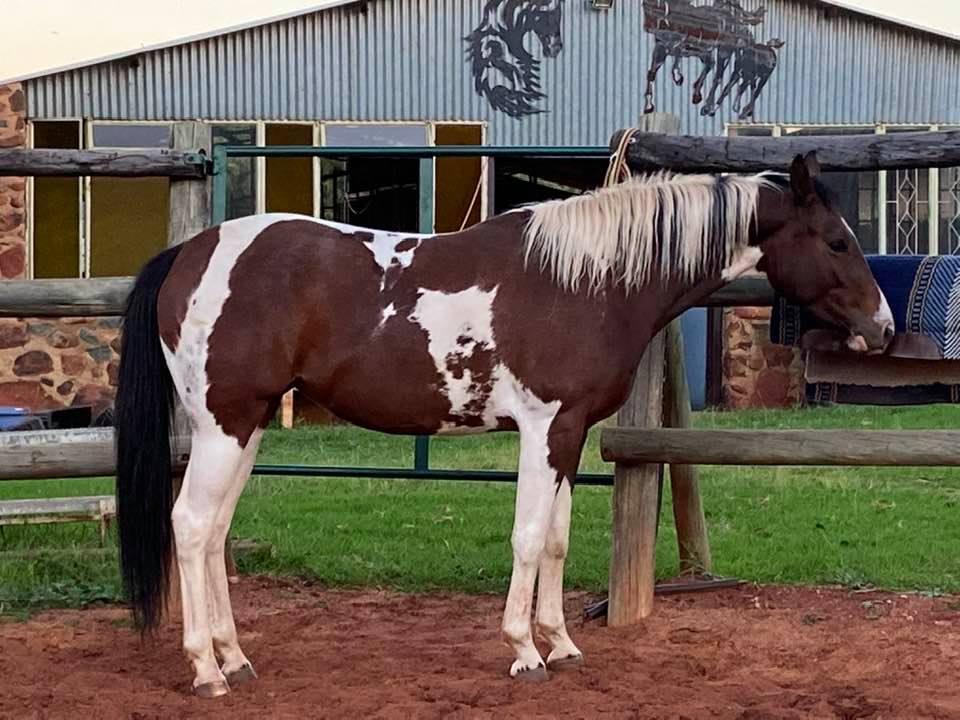 ?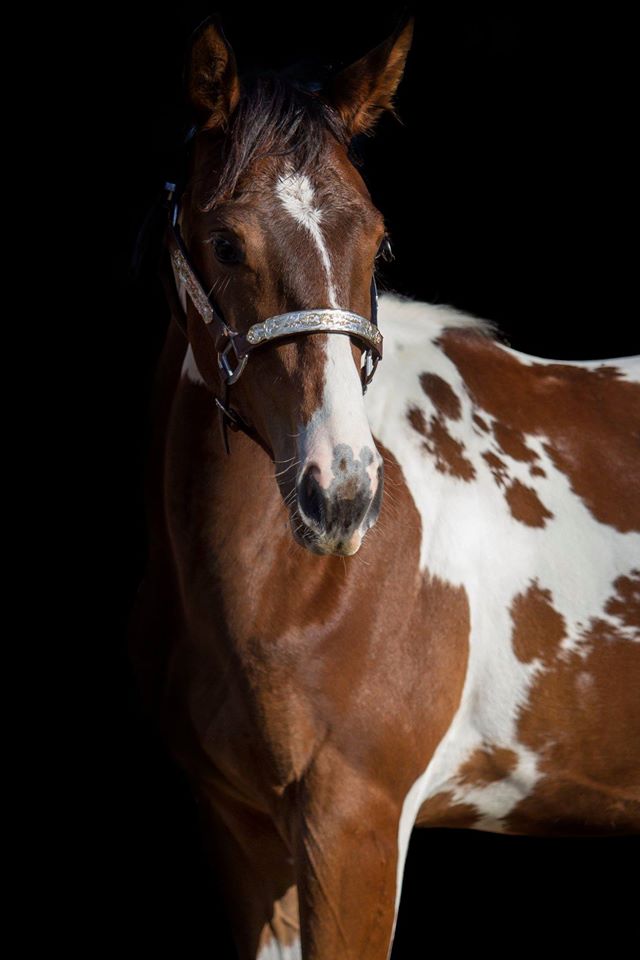 Uniquine McSweetspot, d.o.b. 26/08/2017. She is a 6 panel N/N, colour tested Homozygous tobiano and homozygous black, bay APHA registered filly. Amarillo Poco EazyMcQ x CAL Davincis Rhani (Davincis Delight, APHA IMP USA x Imperial Realm (THB)). At 3 yo she is standing measured just over 15,1h with loads more growing to do. She will mature between 16-16,2h. This very athletic and tall sporthorse type filly will be schooled for english riding to show the versatlity of the American Paint Horse and why outcrossing to a Thb can produce a stunning sporthorse, with a great temperament and trainability.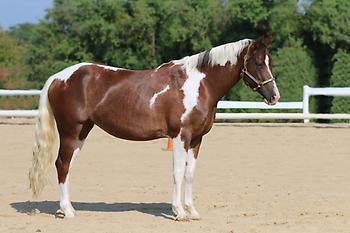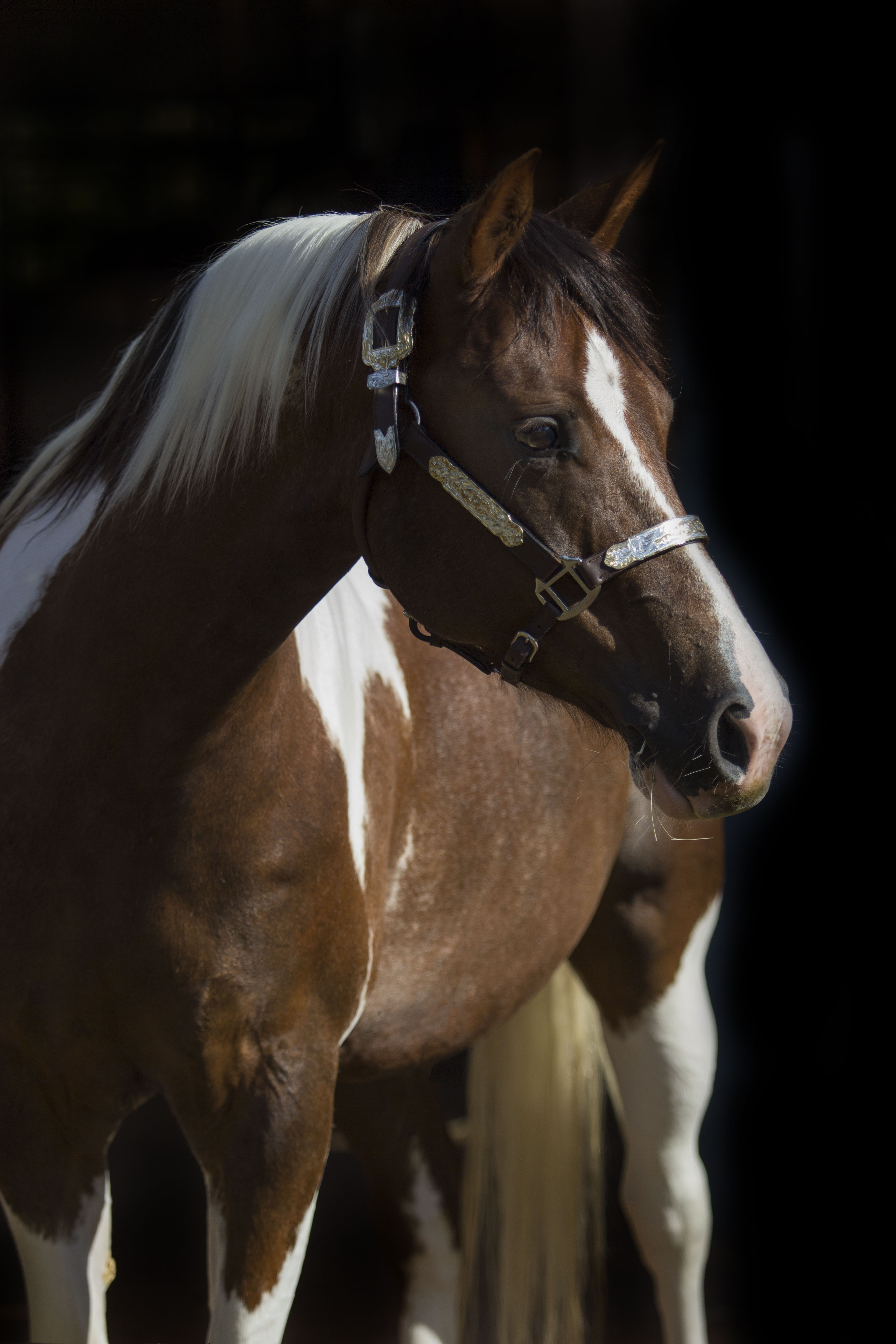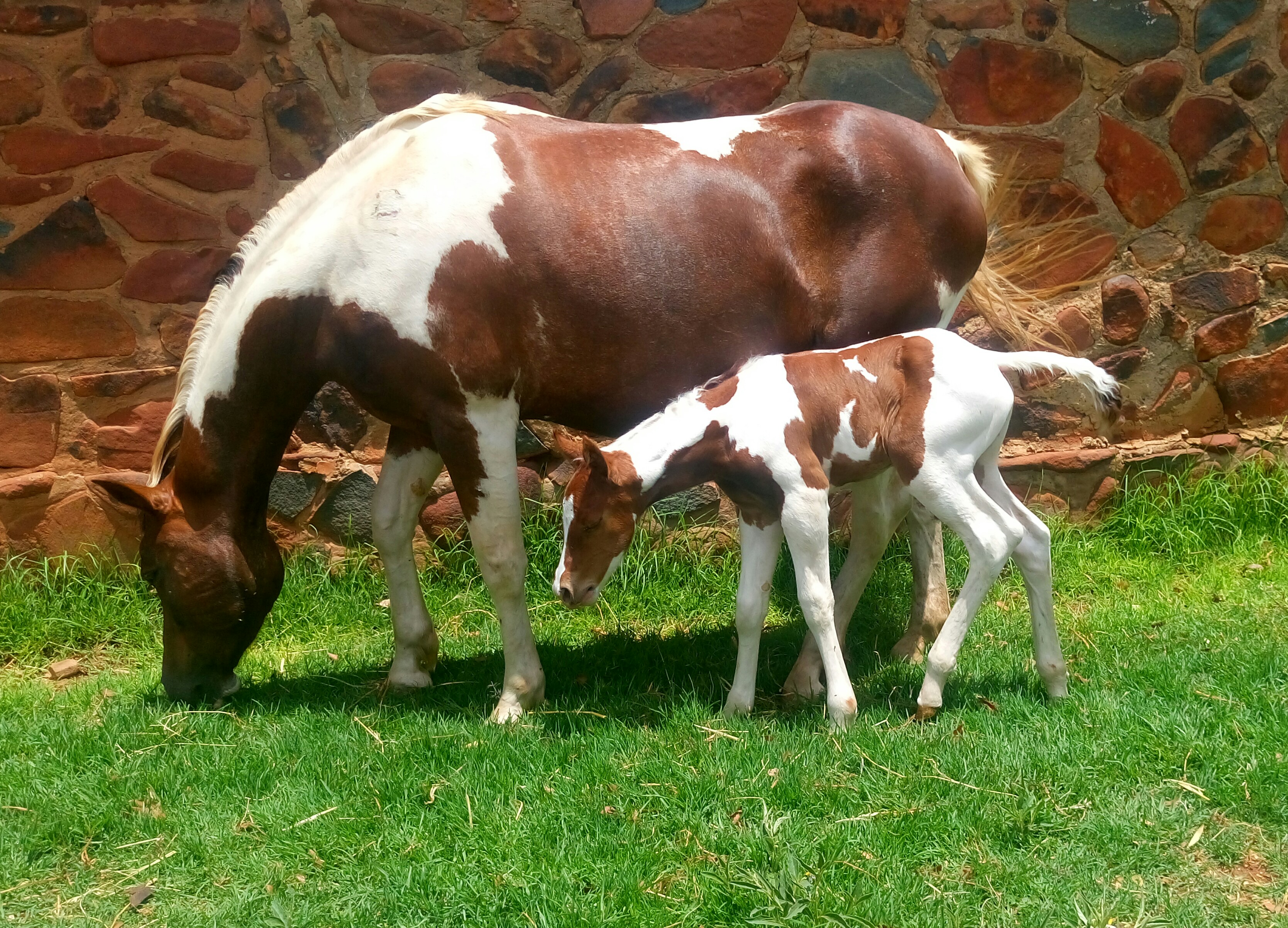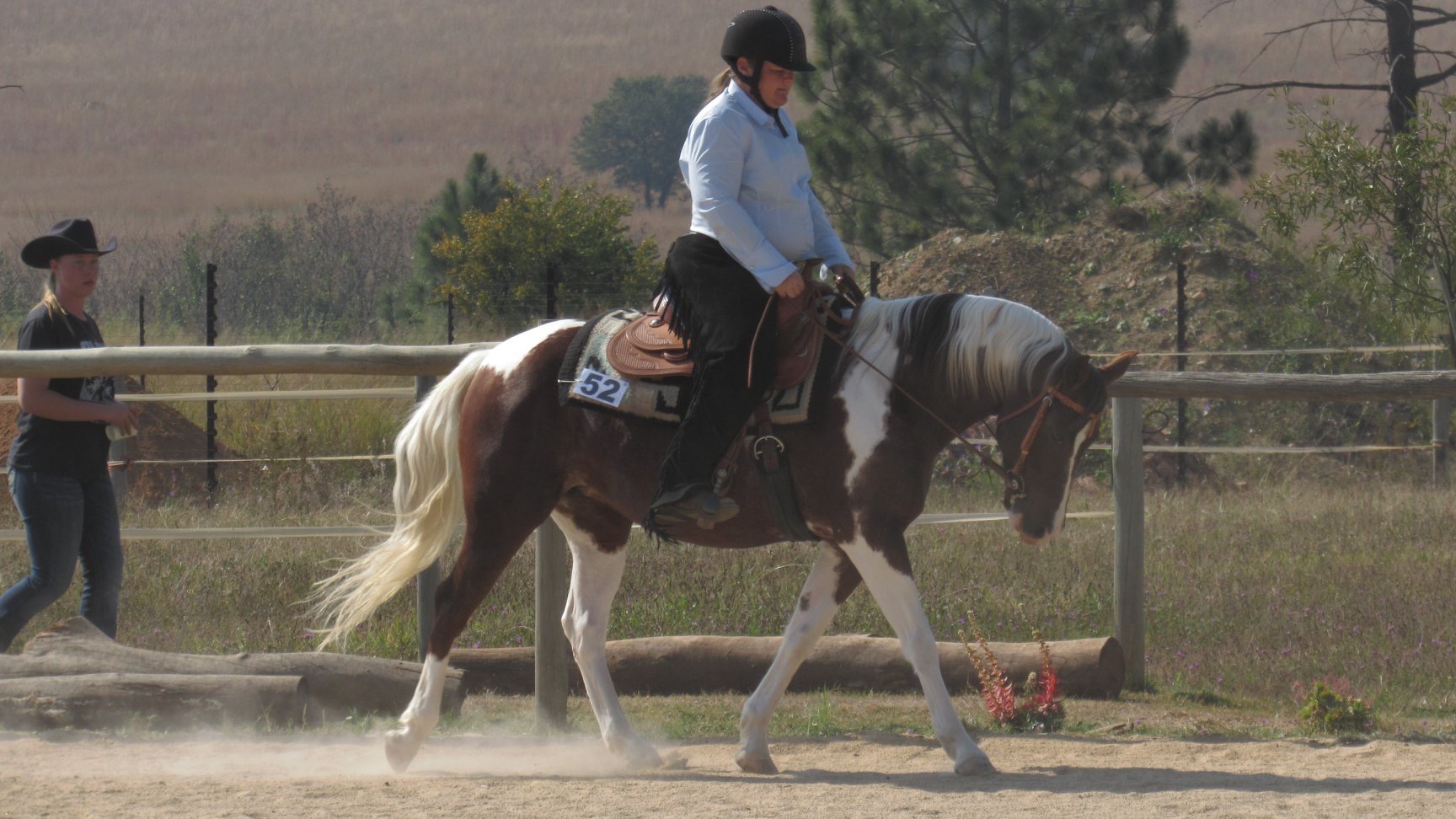 Mounteys Alotto Lena, d.o.b. 31/01/2012, liver chestnut tobiano mare by A Painted Smart Olena (APHA IMP Germany) x Bar Babyface Jess (Dillions JB Lynx (AQHA IMP USA) x Precious Jessie (AQHA IMP USA). She is 6 panel NN and colour tested heterozygous tobiano. Lotto produced a beautifull liver chestnut tobiano filly by McQ on 01/11/2016, Uniquine McWinALot. This talented mare will now start her show career.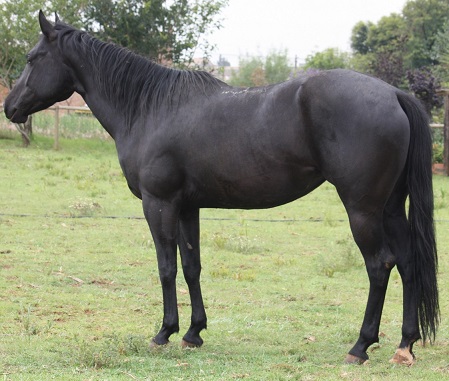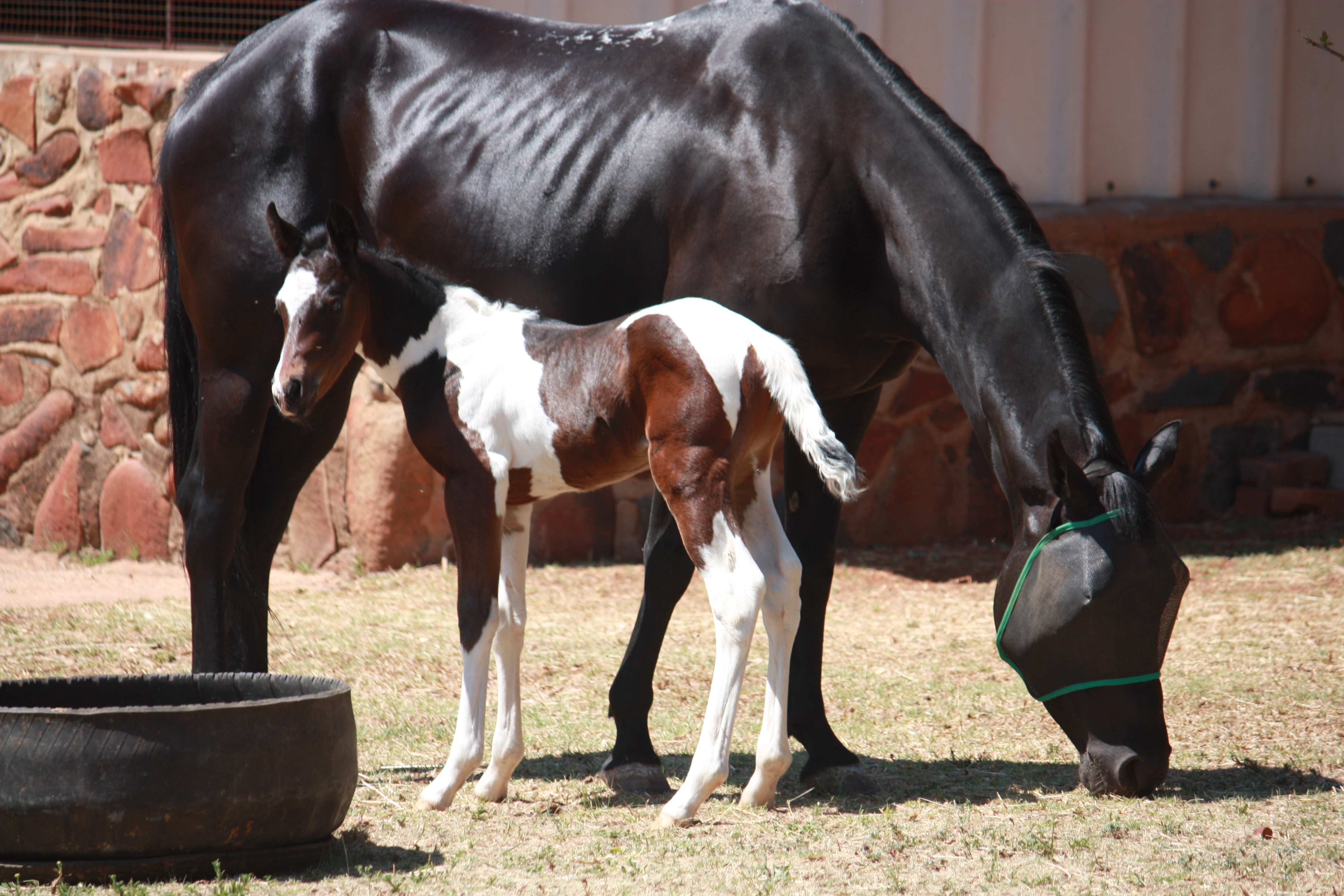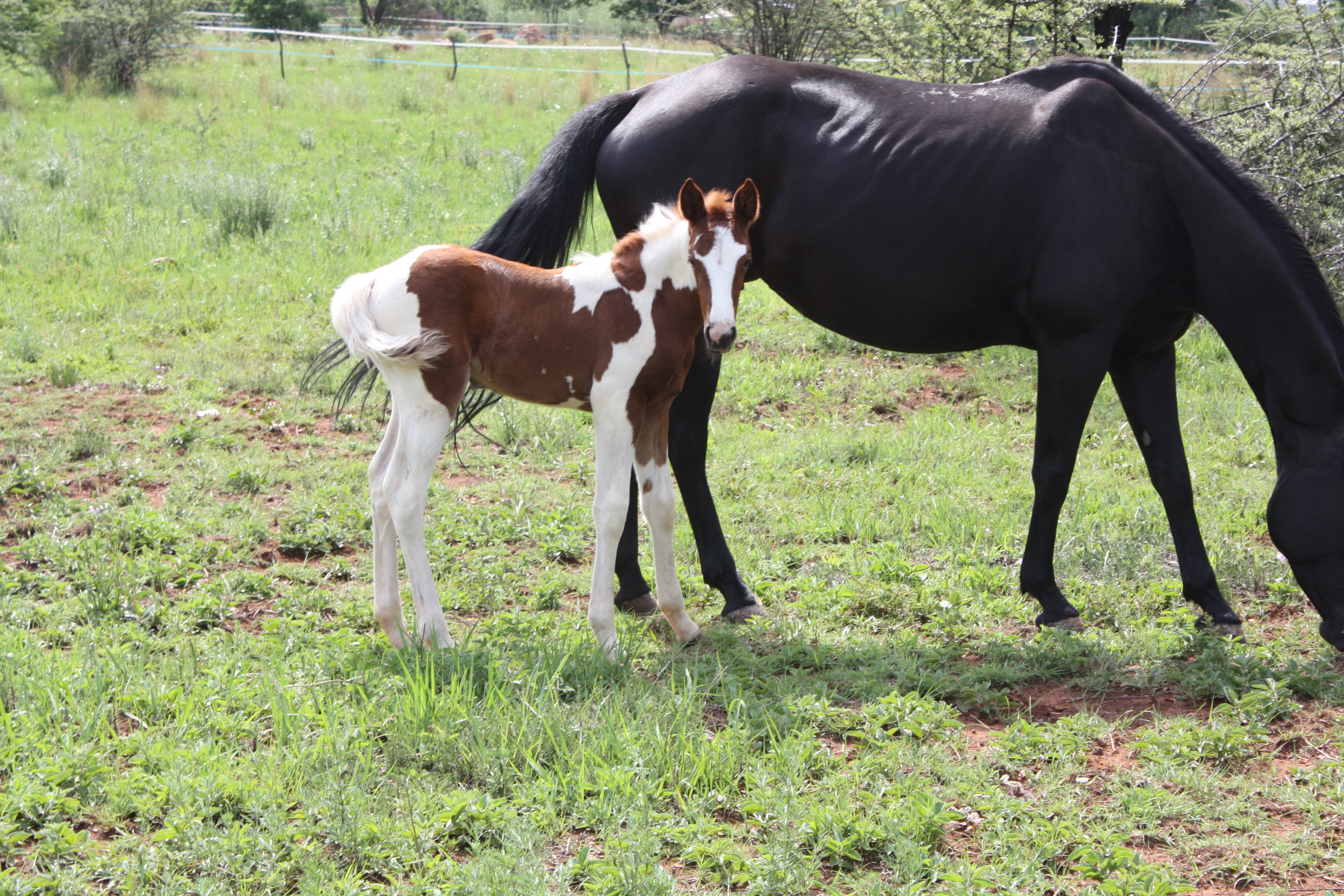 BRONCO LTD EDITION DELILA, d.o.b. 23/11/2009. Sire: Bronco Springer x Dam: Hilton's Second Lady. She is 6 panel NN and colour tested as Heterozygous black with the W20 white gene. This is a very talented mare under saddle and a fantastic broodmare that produces very big foals. She produces two fillies so far - Uniquine McNificent, a dark bay tobiano filly by McQ on 06/11/2015 and Uniquine McRoyalFlush by McQ on 08/11/2016. Sold 01/08/2017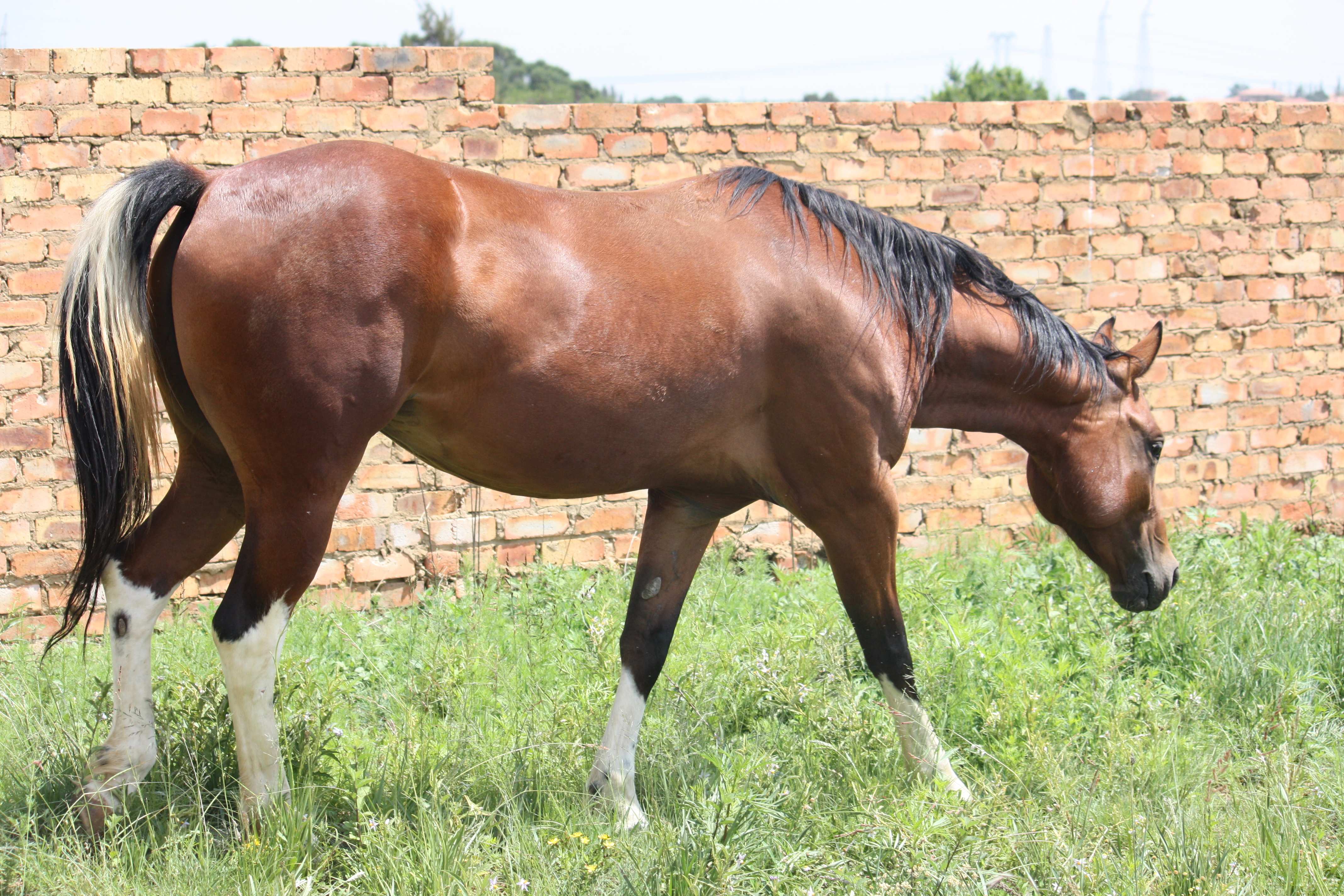 NJQ Painted Lady Lena by A Painted Smart Olena (APHA, IMP Germany) x Precious Jessie (QH, IMP USA), d.o.b. 21/01/2011. Lena produced a Sorrel tobiano colt by TopsailGun in November 2015 and a bright bay tobiano colt on 04/12/2016, Uniquine McEasyStreke by McQ. Sold 01/08/2017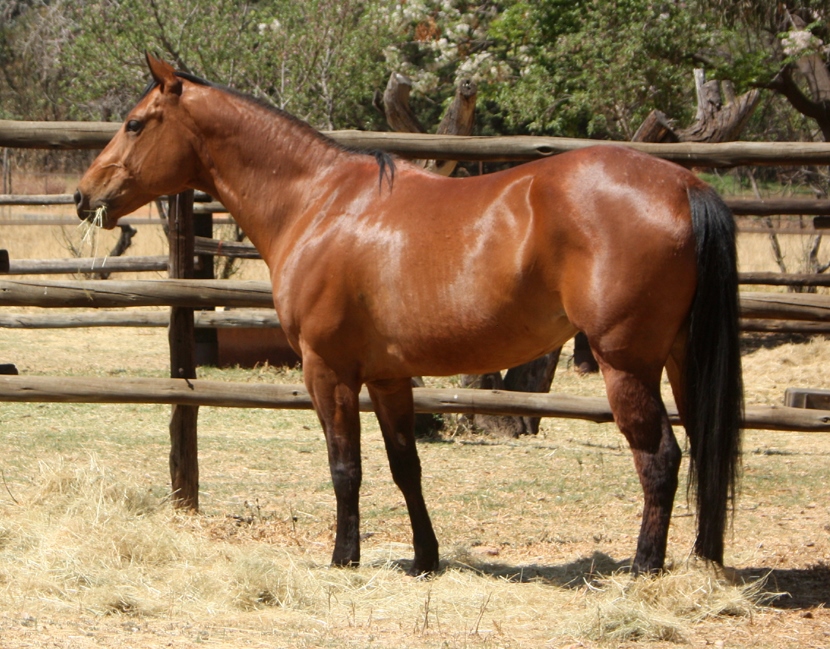 Amarillo Doc Jubyleo by Dillions JB Lynx (AQHA IMP USA) (Kansas Dillion x Doc Foxie Doc) x Redclifton Tam Jo Leo. Dillions is a nephew of Mr Gunsmoke - world champion all-round cow horse (NRHA Hall of Fame) and sire of top cutting,reining and working cow horses. He is also a Grandson of Doc Lynx. Deceased 21/07/2014.