Newsletters

.doc
Dressage v Western Riding
Added: 2011-07-10 11:00



Object and General Principles of Dressage.doc
Added: 2011-06-09 13:27



Reigning Description of classes.pdf
Added: 2011-06-09 13:26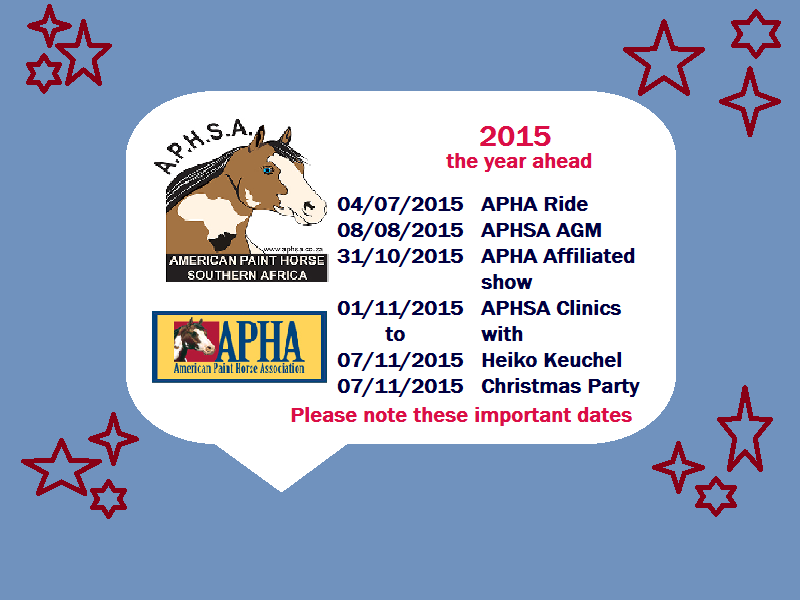 - 2015-04-01
...
more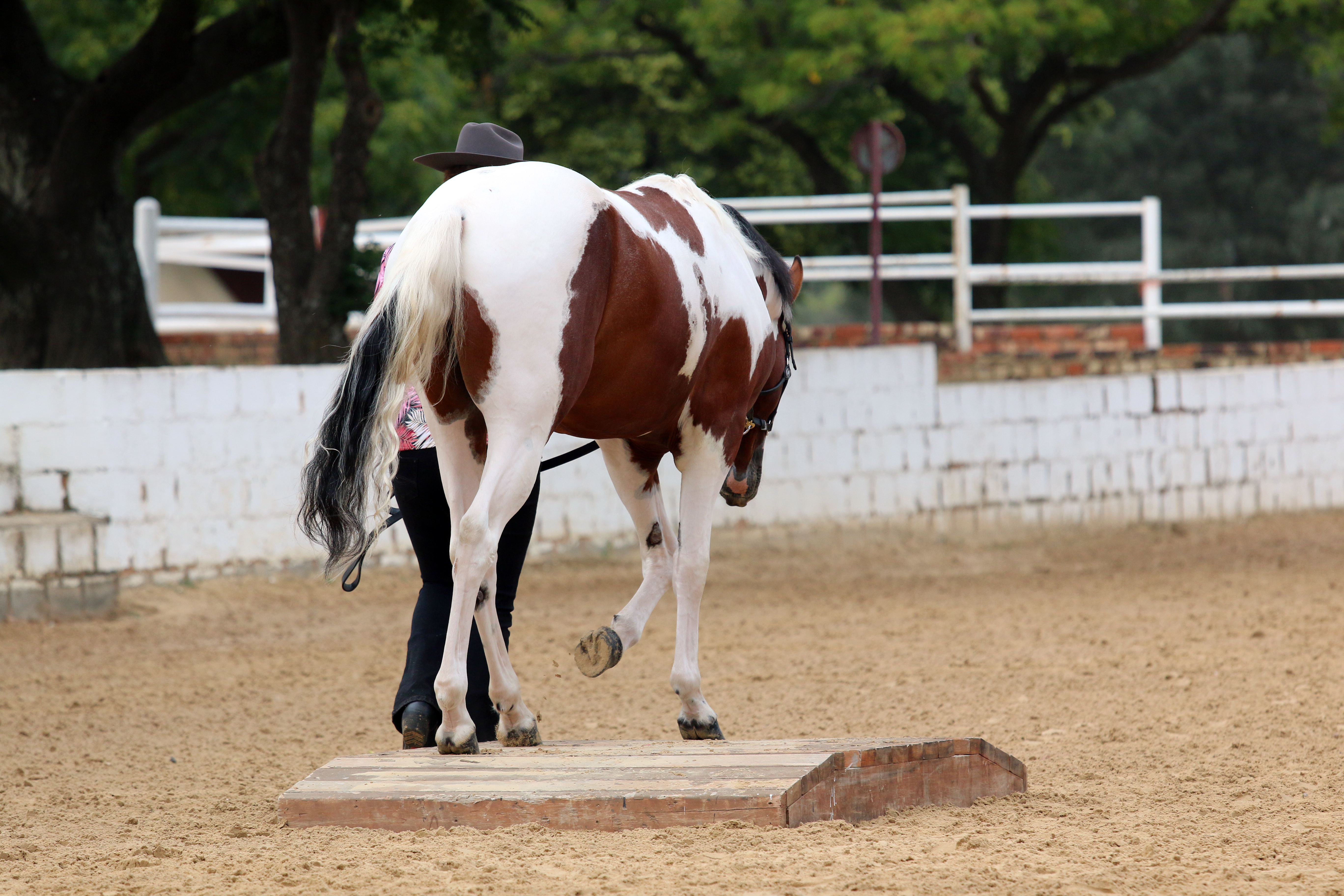 HOY 2015
- 2015-03-03
Amarillo Poco EazyMcQ went to his first show on 21 February 2015 as a 2 yo stallion. He was first in 2-4 yo stallions, Champion stallion and first in In hand trail class. It was a great experience for him and he really loved the in hand trail class.  ​ ...
more
2015 expected foals!
- 2015-01-03
We have fantastic news that all three our mares are confirmed in foal! CalVal Pardon My Dust (QH) is due in September 2015 to ONP Yellow Stone (QH). Bronco Ltd Edition Delila (QH) is in foal to our own stallion Amarillo Poco EazyMcQ (Homozygous tobiano - APHA) for November and NJQ Painted Lady Lena (APHA) is in foal to Topsail Gun (IMP AQHA) for No...
more
Amarillo Doc Jubyleo
- 2014-07-22
Amarillo Doc Jubyleo was humanely euthanized on 21/07/2014 due to complicataions after a severe recurring spleen colic. R.I.P my gourgeous girl. ...
more
NJQ Painted Lady Lena
- 2014-03-14
We are very happy to announce the addition of the stunning APHA reg mare NJQ Painted Lady Lena to our American Paint Horse breeding programme. She is by A Painted Smart Olena (IMP APHA) x Precious Jessie (IMP AQHA), who is a daughter of the legendary Doc O Dynamite. She will be joining our stud on 21/03/2014 after having been on lease in Namibia si...
more
HOY 2014 - 14, 15 & 16 February 2014 at KEP
- 2013-11-27
Come and join us for a western weekend of fun and excitement at HOY 2014. RHSA & WPSA will hold their performance classes on Friday 14/02/2014. APHSA & SAQHA will hold their breed show classes jointly on Saturday 15/02/2013 and the champions of all breed and performance show classes that included western classes will go through to the new W...
more
Amarillo Poco EasyMcQ
- 2013-07-14
We have decided to add a little colour to our future at Uniquine Quarter Horse & Paint Stud. We have purchased this outstanding APHA registered bay tobiano colt as a future stud stallion for our breeding and showing programme. He is homozygous tobiano and looks like he carries the splash gene. This means that he will be a 99% colour produc...
more
Caseys Dream Tammy Jo Georgia Sold
- 2013-04-21
It is with sadness that we announce that we sold Caseys Dream Tammy Jo Georgia on 31/01/2013. She has gone to an awesome new home where she will be used as a brood mare and be ridden. We have changed our breeding program and she no longer fitted into our new breeding programme. ...
more

HOY 2013!
- 2013-01-19
Come and join us at HOY 2013 for western riding, western performance classes, halter classes, reining classes and western dressage and general fun! WSASA show is taking place 15/02/2013 and SAQHA show is on 16/01/2013 (Saturday) in the Small Sand Arena from 08h00 until 16h00. This is a wonderful opportunity to see western riding and the skill ...
more
Training Bootcamp December 2012 @ Uniquine QH Stud
- 2013-01-08
Three horses: Caseys Dream Tammy Jo Georgia, Tiaan's TopGun and Bronco Ltd Edition Delila has been send to training bootcamp at Uniquine QH Stud during December 2012. They have started (Delila) and been send to refresh and improve their training (TopGun an Georgia) with Danielle Boje and TJ Heesterbeek. They should all be show ready and participate...
more
Our new Smokey Black filly!
- 2012-12-18
We would like to welcome and present our new smokey black filly - CalVal Pardon My Dust.    She joined Uniquine QH Stud on 17/12/2012. She is a very calm and gentle filly that takes everything in her stride from getting in the horsebox in Ladybrand, travelling 500 km to Pretoria to her new home, unloading, stretching her legs and being ...
more
Caseys Dream Tammy Jo Georgia in HQ magazine!
- 2012-08-07
Check out Caseys Dream Tammy Jo Georgia in the July/August 2012 HQ Magazine on the SAQHA advertisement!...
more
SAQHA / AQHA show 29 & 30 September 2012 @ Misty Meadows
- 2012-07-27
The next SAQHA / AQHA show will be held on 29 & 30 September 2012 at Misty Meadows. Come and support us for a weekend filled with western riding disciplines! ...
more
SAQHA / AQHA July Jamboree Show Parys 04-08/07/2012
- 2012-06-24
SAQHA will be hosting its July Jamboree in Parys at the Afridome from 04-08/07/2012. There will be the first Youth Selection show on 05 July for the SAQHA youth initiative to sponsor 6 youth riders to go to the AQHYA Youth World Show in Oklahoma in August 2013. On 6 and 7 July the SAQHA and AQHA classes will be held. On 07 July will be the ran...
more
The Seven Stages of Ageing on Horseback
- 2012-06-05
Stage 1: Fall of pony. Bounce. Laugh. Climb back on. Repeat. Stage 2: Fall of horse. Run after horse, cussing. Climb back on by shimmying up horse's neck. Ride until sundown. Stage 3: Fall of horse. Use sleeve of shirt to staunch bleeding. Have friend help you get back on horse. Take two Panado and apply ice packs when you get h...
more
Youth Seclection Show @ Afridome 05/07/2012 for AQHA Youth World Show 2013 !!!!!!
- 2012-05-23
The first youth selection show will be held on 05/07/2012 @ Afridome to select a youth team to send to 2013 AQHA Youth World Show. This will be open breed classes to encourage as many participants as possible. There will be English classes, Western classes and Western Mounted Games classes. There will also be a day with training classes on 03/07...
more
"A REAL dressage test" - out of GHS Rider's Digest March/April 2012
- 2012-05-10
A : Enter in working trot X : Halt G : Try to halt again C : Freeze in horror at judge's ferocious glare. Salute hurriedly. Track left H : Rustle of spectator's crisp packet HXF : Extended bolt F : Track right (just) FAKE : working gallop right E : Circle right 20 metres making a strange polyhedron shape E : Freestyle pirouette. change rei...
more
SANESA Western Riding qualifyer 2
- 2012-03-11
Genre and Caseys Dream Tammy Jo Georgia will enter the second western riding qualifyer to be held at Misty Meadows on 18 March 2012. ...
more
SANESA - Western Riding - first qualifying show on 05/02/2012
- 2012-02-06
Gènre and Georgia entered the show at Maple ridge and their results were as follows:   Western Pleasure - 3 rd place Reining - 1 st place Western Dressage - 1 st place   Well done to both of them!...
more
Quarter Horses at HOY 2012
- 2012-01-26
Please come and support Quarter Horses as a breed at HOY 2012 on 18/02/2012 during the SAQHA show in the Small Sand Arena!...
more
Quarter horses entered for school sport with www.sanesa.co.za
- 2012-01-06
Uniquine Quarter Horse stud has registered Caseys Dream Tammy Jo Georgia and Genre Pretorius to participate in western riding for school sport. The first Qualifying show will be held on 05/02/2012 at Maple Ridge. They will enter western pleasure class, western horsemanship and western dressage classes....
more
Show clothes and colors
- 2011-11-30
Show clothes, in color and design are more obvious than casual apparel. The judge will be watching from 50 - 100 m away and will only see color, silhouette and coordination of rider and horse.  Consider this when you are showing - do you want to stand out or blend in the arena? Black is always a safe bet, but remember at least 75% of your co...
more
New AQHA approved class: Ranch Horse Pleasure
- 2011-11-30
The class will have 3 - 5 suggested patterns. The performance of the horse should reflect the versatility, attitude and responsiveness of the horse. The horse's performance should simulate a horse riding outside the confines of an arena and that of a working ranch horse.The class should show the horse's ability to work at a forward, working speed w...
more
Sunday Horse Cookies
- 2011-10-11
Recipe:   * 1 cup uncooked oatmeal * 1 cup flour * 1 cup shredded carrots * 1 teaspoon salt * 1 tablespoon sugar * 2 tablespoons corn oil * 1/4 cup water * 1/4 cup molasses   Mix ingredients in a bowl in the order listed. Roll dough into small balls and place them on a greased cookie sheet. Bake at 350 degrees (F) / 180 degrees...
more
Tiaan's Top Gun at Parys Afridome - 23/09/2011
- 2011-09-25
Genre and Top Gun entered the SAQHA / AQHA show in the youth division and did very well since they are both novices.  Top Gun won first place in the following classes:  Gelding 3 and over halter class Showmanship at halter - youth Walk / Trot horsemanship - youth Top Gun got a second place n Western Pleasure - youth Well done Genre ...
more
SAQHA / AQHA novice amateur and youth show in Parys 23/09/2011
- 2011-09-19
Genre and Tiaan's Top Gun will be entering the SAQHA / AQHA novice youth show on 23./09/2011. The SAQHA / AQHA show will be held with the first international FEI CRI at Parys Afridome (22/09/2011 to 25/09/2011)....
more
Training Clinic by International Reigning horse trainer, Steve Ross
- 2011-08-03
Uniquine Quarter Horse stud will attend the training clinic by international Reigning horse trainer, Steve Ross from 08/08/2011 to 12/08/2011. The following horses will attend the clinic: Caseys Dream Tammy Jo Georgia Tiaan's Topgun Caseys Dream Whispering Crystal      ...
more
Caseys Dream Tammy Jo Georgia @ Charvid dressage show 16/07/2011
- 2011-07-20
Georgia entered her third dressage show and came first (prelim 1) with 65.71 and fourth (prelim 2) with 59.23. ...
more
Tiaan's Topgun and Uniquines Cactus Jack gelded
- 2011-07-06
Tiaan's Topgun and Uniquines Cactus Jack was gelded on 06/07/2011. Topgun will now be further ridden and shown by our 16 year old daughter in dressage and western classes. Cactus Jack will start his ground work training now and will start showing in hand in western classes from end 2011.   Although Topgun has produced 2 very good quality foa...
more
WESTERN DRESSAGE
- 2011-07-01
The Western Dressage classes would offer a place for the western rider and horse to improve themselves as individuals and partners through the use and discipline of dressage. By using dressage principles the western rider will help their horse in many ways such as cadence, balance and carriage. The use of dressage will help the western horse to aga...
more
Georgia's second dressage show
- 2011-06-02
Casey's Dream Tammy Jo Georgia and Tiaan's Topgun entered a dressage show on 15.05.2011. This was Topgun's first dressage show and he did reasonably well with 56,92. Georgia excelled in her second dressage show with a high score of 68,13 (4 th place) and 61.65 (Second place). They were both ridden by Danielle Deetleffs. Both judges remarked that Ge...
more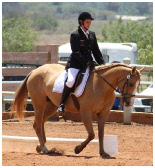 November 2010 News
- 2011-05-16
Casey's Dream Tammy Jo Georgia, a 6 yo broodmare, owned by Uniquine QH Stud entered her first dressage show, regionals on 13/11/2010. There were 46 horses competing. She has now been under saddle for 6 months. She got 63,85% and 63,75% for her two classes and she came second and third in her respective classes. The judges comment : "Wha...
more